Since early 1974, Swedish ELME has become the world leader in manufacturing shipping container spreaders. The secret is not just the company's unique ability to customize its products, but also its collaboration with partners like Proplate, which can deliver high-quality, precisely dimensioned components.
Since 2013, Proplate has been processing and delivering steel component parts to  ELME, the world's largest independent manufacturer of spreaders, which are telescopic devices that allow forklifts and cranes to lift 20 or 40-foot containers weighing up to 45 metric tons dozens of meters into the air. These structures must be able to withstand extreme stresses around the clock in the toughest environments imaginable, in container terminals all around the world.
"Many of our customers buy from us even though they  can manufacture spreaders themselves because their solutions are standardized and their product ranges are limited. Our strength is that we can tailor the designs according to customer needs and to all types of lifts as well, which makes us independent."
Demanding requirements
Over the years, ELME has delivered more than 16,000 spreaders. An important success factor is the company's capability in Älmhult, where products can be worked from drawing to finished spreader.
End customers may have specific requests for such things as what signals the lamp panel will show, the location of work lights and what the spreader should be able to handle. For example, is there a lift beam that can manage to tilt a container loaded with grain or wood chips. The high demands from both customers and end customers are also the reason why ELME uses the utmost care in choosing partners that can provide the highest quality components, like Proplate, which contributes 20-some component parts in S355 construction steel, including the large, load-bearing parts of the ELME Spreader Model 818, a gantry that end customers mount on their forklifts when they need to lift loaded containers.
"We help each other"
The partnership works very well, according to Gustafsson:
"Proplate has very good equipment and a fine workshop that can cut with high precision in both gas and plasma. The component parts will be very stringently quality-assured, even though the plates can be as thick as 70 millimeters. That's a strength."
It's not always simple, she notes:
"We can have tight tolerances and make requests for one thing or another. Our end customers know exactly what they want; but we can trust that with Proplate it will always be right.
"Then I also think that the soft values work great. Our contacts are service-minded and are constantly ahead of things. One of many examples is that they always keep our steel plates in stock. They also share their skills and experience. We help each other. Of course, we greatly appreciate that kind of proactivity."
KONTAKTA MIG FÖR MER INFORMATION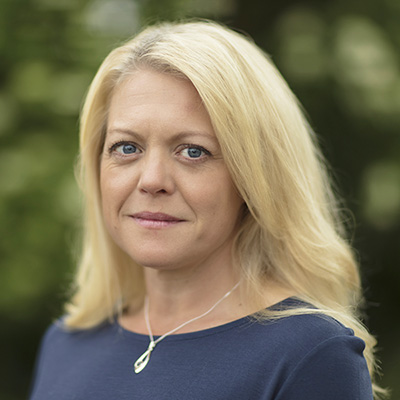 Josefine Lilja
Communications Manager